How Much Does LASIK Cost?
Though prices vary across the country, LASIK in Lexington can cost between $2,000 and $4,000 per eye. You may see ads for procedures under $1,000 per eye, but those are often bait and switch tactics.
They are meant to lure in a patient, who is charged much more than the advertised price.
For a safe LASIK procedure, you should go to a board-certified and fellowship trained ophthalmologist. They should have ample experience performing LASIK surgery successfully.
All the physicians at Huffman & Huffman, P.S.C. are board certified. We're also trained in the latest LASIK technology. This is to ensure our patients get their desired results.
What are my options when paying for LASIK?
Several options exist to help patients pay for LASIK surgery:
Financing Companies
You can pay for LASIK through financing companies. First, make sure your surgeon approves of the financing company you're using.
You may want to make a list of several companies before applying for any loans. Interest rates will vary.
If you pay off a loan more quickly, you may not incur interest payments. If you pay off your loan more slowly, you may face extra interest charges.
LASIK financing through the practice and major financial companies
Some surgeons offer LASIK financing through major financial companies. It is a good idea to check with your eye physician's billing office to see if that is an option.
To receive financing through a financial company, you need to fill out an application. You'll also go through a credit check. You may even to provide your driver's license and the name of the surgeon.
Online financing
Online financing may also be available. You can fill out the application at your convenience if you have computer access.
Those who qualify are normally notified quickly after submitting their application. It is important to make sure you are applying to a reputable company.
You may want a list of financing companies before submitting online applications.
FSAs
Flexible Spending Accounts (FSAs) are a tax-free way to save for LASIK. FSA's are often offered through many private insurers.
You take a part of your salary each paycheck and deposit it into your FSA. This way you save the money for the procedure yourself. You don't have to worry about applying for a loan or paying back a loan this way.
Whichever option you choose, make sure to make your loan payments on time. This is the best way to avoid any consequences to your credit, including penalties or late fees.
Why Choose Huffman & Huffman, P.S.C.?
At Huffman & Huffman, P.S.C. we accept private insurance and authorized Medicare benefits. Our billing/financial team will work with you before LASIK.
LASIK is an elective procedure. This means most insurance plans won't cover the procedure.
We do offer payment plans and will set up monthly payments based on your circumstance.
Please contact our billing department to discuss our payment plan options. We also accept CareCredit and can help you apply for it. CareCredit is a healthcare financing credit card, great for procedure like LASIK.
CareCredit healthcare credit card for better vision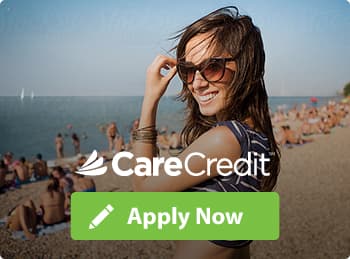 We offer limited financing for certain procedures through Care Credit.
There is an easier way to pay for your vision care including LASIK. We're pleased to accept the CareCredit credit card, North America's leading patient healthcare financing program. CareCredit lets you begin your procedure immediately — then pay for it over time with monthly payments that fit easily into your monthly budget. Whether you're considering LASIK, need cataract surgery, or it's simply time for new glasses or contacts, CareCredit can hdomelp you see clearer, sooner.
Your healthcare credit card
CareCredit is the credit card exclusively designed for healthcare services. CareCredit offers special financing on purchase of $200 or more* for healthcare procedures not commonly covered by insurance, including LASIK and Premium-IOLs. Why put off improving your vision tomorrow, when you can see clearer today?
*Subject to credit approval. Minimum monthly payments required. Visit www.carecredit.com for details.
Undergoing LASIK in Lexington, Kentucky
Have questions about whether you could be a good candidate for LASIK? Schedule a LASIK consultation at Huffman & Huffman, P.S.C in Lexington, KY today!