We are a highly experienced team specializing in Ophthalmology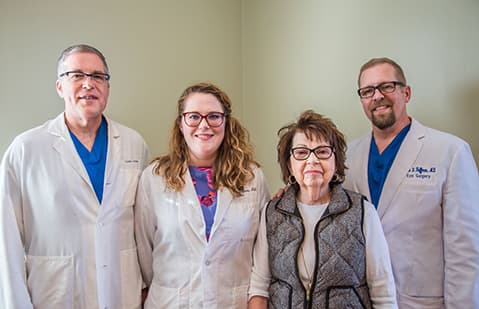 Huffman & Huffman, PSC began on a very small scale. After completing his residency at the University of Kentucky, Jim Huffman opened a practice (known as James Huffman, PSC) in East Bernstadt, Kentucky. The office was staffed by Loretta Huffman (his mother), Paula Huffman (his wife) and one employee. In the early days, Dr. Jim's children often came to the office with them. Now Huffman & Huffman, PSC is a five location practice with multiple satellite offices and surgical locations, and employs over 50 people.
After a year in East Bernstadt, Jim moved his practice to London and rented an office at 408 North Main Street. In 1998, the practice purchased the building at 503 North Main Street and have been there since that time.
By the time his brother Mark joined the practice in 1997, the practice had grown and had 6 employees. The practice name was changed to Huffman & Huffman, PSC. In 2002, the brothers purchased Dr. Rose's practice in Somerset.
Dr. Amy Henson joined the practice in July, 2003 and the practice continued to grow. In 2012, Huffman & Huffman, PSC purchased Dr. Holbrook's practice in Harlan, KY and have since built a new facility there. Dr. Hannah Huffman joined the practice in 2013, followed by Dr. Matt Magee in 2016. In 2017, another location was added in Hazard, Kentucky and Dr. Sarah Huffman joined the practice. In 2019, another location was added in Lexington, Kentucky and Dr. James M. Huffman joined the practice.
Huffman & Huffman, PSC treats patients from all across southeastern Kentucky and areas of northeastern Tennessee. The goal of the practice is to provide excellent patient care to all people in the area. It has been said that eyes are the windows to the soul. We do windows.