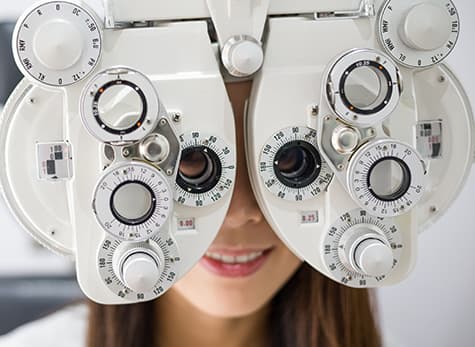 Why Do I Need a Regular Eye Exam?
Many people who believe they have good vision don't see any reason to have a regular eye examination. Huffman & Huffman eye doctors do more than check for vision during an eye exam.
They test for eye health issues that patients may not be aware of. Most patients do not realize that some conditions cause vision loss before symptoms. For example, glaucoma can ultimately cause blindness if not treated in time.
The eyes reflect your health. The eyes are often the first to show signs of conditions. This can include heart disease, diabetes, brain tumors, and MS.
Eye Examinations for Adults
Having a regular comprehensive eye exam is the best way to maintain healthy vision. During a "dilated eye exam", your doctor will insert eye drops.
These eye drops temporarily enlarge (dilate) your pupils. Pupil dilation is an essential part of a thorough evaluation. Having your pupils dilated allows the doctor to examine the retina and optic nerve at the back of the eye.
There are many different types of eye problems that doctors look for during the exam. They will check for various types of "refractive errors".
There are several ways that the shape of the eye prevents light from focusing directly on the retina:
Nearsightedness (Myopia) – close objects are seen clearly, but distant objects appear blurry.
Farsightedness (Hyperopia) – distant objects may seem clear, but close objects are blurry.
Astigmatism – both near and distant objects can appear blurry or distorted.
Presbyopia is a focusing problem that occurs in most adults at around age 40. The eyes gradually lose their ability to see things clearly up close. This occurs as the lens becomes less flexible with age.
Eye diseases such as glaucoma, diabetic retinopathy, and macular degeneration.
Strabismus is a visual problem in which the eyes point in different directions. Although it is more common in children, strabismus can occur in adults.
What Happens During a Comprehensive Eye Examination?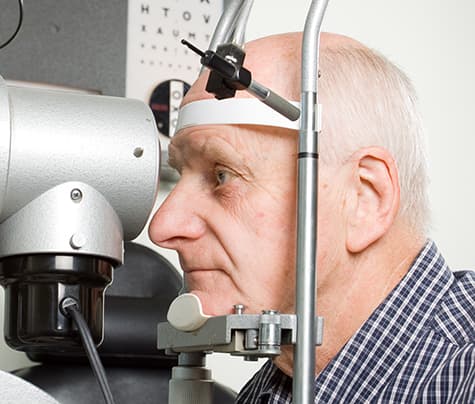 The tests included in a comprehensive eye examination can vary. This can change according to a patient's age, health, and family history.
Your Huffman & Huffman, P.S.C. eye care providers take a brief medical history, and then decide what is needed. Trained ophthalmic technicians usually assist with some of the testing.
Visual Acuity assesses how clear your vision is. Most people are familiar with the large paper chart (or computerized projection) with a large "E" at the top. It measures what is considered normal vision at 20 feet.
Slit Lamp examination – your doctor uses an instrument to look inside the eye for signs of eye diseases and conditions.
Refraction is an exam technique that uses an instrument to determine your glasses or contact lens prescription.
Visual Fields to look for blind spots or problems with side (peripheral) vision.
Cover Test to check for binocular vision and detect strabismus (abnormal alignment of the eyes).
Autofractor or Retinoscopy can estimate your glasses prescription.
Glaucoma Test, also known as tonometry, measures the pressure within the eye.
Evaluation of the optic nerve, retina, and blood vessels with an ophthalmoscope and pupil dilation.
Why is It Important to Have My Pupils Dilated?
If your eye doctor examines your eyes without dilation, they won't be able to see the back of the eye. If there are problems at the back of the eye, they won't be able to detect them.
It is difficult to drive or read after pupil dilation. Since the dilation may take several hours to wear off, it is best for patients to arrange a ride home.
We recommend that patients plan to take a few hours off from work or school on the day of the exam. Bright light may be very uncomfortable for dilated eyes.
It is suggested that patients bring sunglasses to wear after the exam.
Eye Exams in London, Somerset, and Lexington, Kentucky
Looking for a new eyecare provider for you or your family? Look no further than Huffman & Huffman, P.S.C.! With locations in Harlan, Hazard, and more, we make eye care easy.
Schedule a comprehensive eye exam with Huffman & Huffman, P.S.C. in London, Somerset, and Lexington, KY today!