If you have a condition like keratoconus or Fuch's Dystrophy, you may need a corneal procedure. This is more likely as these conditions progress and your eyesight becomes worse over time. If you need a partial or full corneal transplant, these are the most common procedures:
Full corneal transplants with PK (Penetrating keratoplasty)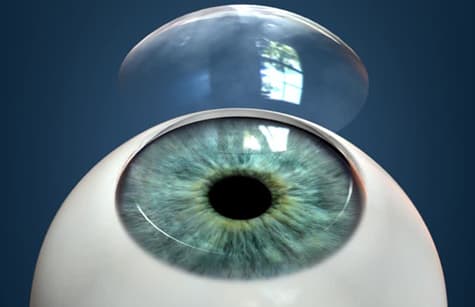 In the past this was the most frequently performed kind of corneal procedure. This procedure involves removing the entire cornea.
Once removed, it is then replaced with a donor cornea. The donor cornea comes from someone who has passed away and consented to having organs used.
Using a donor cornea allows your surgeon to restore your vision. During PK, a small, button-shaped section of tissue is gently removed from the damaged cornea. This is with either a trephine or a femtosecond laser, which is also used during LASIK.
A matching "button" from the donor cornea is then sutured into the same spot where tissue was removed. These sutures stay in place for at least a year after the procedure.
The last step is to put a plastic shield over the eye. This protects your eye while it begins the healing process.
After PK is over, you can go home, since it's an outpatient procedure. Like most surgical procedures, you'll need someone to drive you home after.
DMEK (Descemet membrane endothelial keratoplasty)
If you don't need a full corneal transplant, you may receive DMEK instead. Unlike the full thickness corneal transplant, DMEK is a partial thickness transplant.
During DMEK, the existing endothelium on the patient's eyes is completely removed. This is then replaced with the donor tissue.
Unlike the "button" from PK, the donor tissue used in DMEK is extremely thin and delicate. It's only 5% corneal thickness and allows many more patients to achieve 20/20 or 20/25 vision.
The donor tissue is inserted into the eye and then unrolled. Once unrolled properly, your surgeon will use a few small puffs of air and surgical tools.
This ensures the tissue has been correctly placed. Once they are satisfied, the tiny opening made in the eye is carefully sutured shut.
Like PK, you'll need to have someone to drive you home after. Expect to come back in the days after for follow-up appointments for close monitoring.
DSAEK (Descemet stripping automated endothelial keratoplasty)
For patients with conditions like Fuch's Dystrophy, that have previous glaucoma or retina surgery they may be better off with DSAEK. Like DMEK, DSAEK is a partial thickness cornea transplant. It only replaces the inner layer of the cornea.
During DSAEK, a small incision is made. Only the inner, damaged layer of the endothelial tissue gets removed. It is then replaced with donor tissue and inserted into the eye.
A few small stitches are then used to close the incision. The new donor tissue stays in place thanks to an air bubble. The air bubble holds the new layer right against the corneal layers.
Compared to the recovery time of PK, DSAEK recovery can take only three to four months! Most patients even notice their vision has improved a few weeks after the procedure.
DALK (Deep anterior lamellar keratoplasty)
DALK or deep anterior lamellar transplant leaves behind 5% or less corneal thickness.
DALK uses donor tissue as well as a femtosecond laser to make incisions in the cornea. It is often best for patients with keratoconus or corneal scars.
With DALK, the patient keeps their own endothelium, which leads to a faster recovery time. The corneal layers removed during DALK are the epithelial and stromal cells. These can regenerate, which also lends itself to a faster recovery.
Have Fuch's Dystrophy or keratoconus? It's important to know your options for corneal transplants or procedures!
Come see the experts at Huffman & Huffman, P.S.C. for answers to all your questions. Schedule an appointment with us in today!